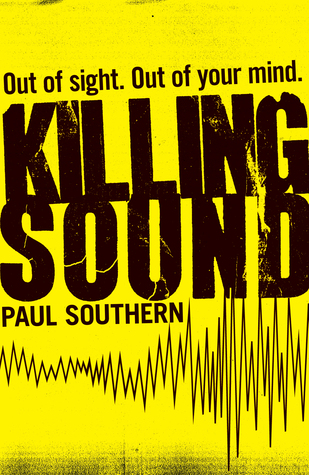 Book: Killing Sound
Author: Paul Southern
Pages: 317
Publisher: Chicken House
Received paperback for an honest review via publisher
Rating:
✪✪✪

.5
Blurb:
Jodie is cursed with a terrible gift. She just doesn't know it yet. When she stumbles across one of her dead father's old papers on sound waves in the attic, it sets her on a terrifying journey to find out more, leading her across the streets of London to the dark, untrodden tunnels of the Underground, where she is forced to face the truth. Her worst nightmare is about to become real. Worse, she can hear it coming.
Review
Killing Sound by Paul Southern was out of my book comfort zone. It is not my usual type of read, far from it, with it's eerie premise and strange happenings. I wasn't sure what I was going to think of Killing Sound.
The book started of really interesting and I was hooked. The premise of the story is unique and it has a creepy atmosphere that gradually intensified as the story continued. I really liked Paul Southern's style of writing, it was so full of detail and I could imagine myself feeling and seeing everything Jodi was experiencing . It was his writing that kept me turning the pages and not giving up on the book as it got stranger and stranger.
The ending of the book was quite intense, I don't think I was expecting it to end the way it did and the reasons behind why things where happening in the book took me by surprise and I have to admit I was a little confused.
I have mixed feelings overall about Killing Sound. On the one hand I couldn't put it down thus the 3.5* rating but then on the other hand it played with mind and creeped me out and I don't know if I liked that or not also I was a little confused about what happened. I was still questioning what really happened when I had finished it. I think this quote from Killing Sound sums up my thoughts on the book perfectly:
"The human brain was so complicated and yet so beautiful. Each piece has a function, everything fitted somewhere, yet the little pieces couldn't explain the whole." The Killing Sound by Paul Southern
Killing Sound by Paul Southern out now in paperback and eBook (£7.99, Chicken House). Find out more at Double Cluck
Check out the rest of the blog stops!