"Waiting On" Wednesday is a weekly event, hosted by
Breaking The Spine
that spotlights upcoming releases that we're excitably anticipating.
The Monster Within by Kelly Hashway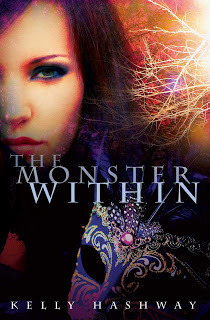 The moment seventeen-year-old Samantha Thompson crawls out of her grave, her second chance at life begins. She died of cancer with her long-time boyfriend, Ethan, by her side--a completely unfair shot at life.
But Ethan found a way to bring her back, like he promised he would. Only Sam came back wrong.
She's now a monster that drains others' lives to survive. And after she kills, she's tortured by visions—glimpses into her victims would-have-been futures had she not killed them. Barely able to live with herself and trying to make things right, Sam ends up a pawn in a vicious game of payback within the local coven of witches.
But when the game reveals what Ethan had to do to save Sam, she must make a choice that will change all their lives forever
Expected publication: June 17th 2014 by Spencer Hill Press
My Thoughts:
I loved Kelly's Touch of Death Series and I'm hoping to love The Monster Within as much! I also love this cover!
Kelly Hashway is currently having a mega giveaway to celebrate the upcoming release of The Monster Within. Check it out here!