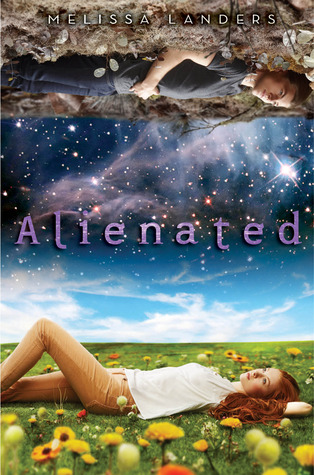 Book: Alienated
Author: Melissa Landers
Series: Alienated #1
Pages: 344
Publisher: Disney Hyperion
Bought Hardback
Rating:
✪✪✪✪✪
Goodreads * Amazon * Book Depository
Blurb:
Two years ago, the aliens made contact. Now Cara Sweeney is going to be sharing a bathroom with one of them.

Handpicked to host the first-ever L'eihr exchange student, Cara thinks her future is set. Not only does she get a free ride to her dream college, she'll have inside information about the mysterious L'eihrs that every journalist would kill for. Cara's blog following is about to skyrocket.

Still, Cara isn't sure what to think when she meets Aelyx. Humans and L'eihrs have nearly identical DNA, but cold, infuriatingly brilliant Aelyx couldn't seem more alien. She's certain about one thing, though: no human boy is this good-looking.

But when Cara's classmates get swept up by anti-L'eihr paranoia, Midtown High School suddenly isn't safe anymore. Threatening notes appear in Cara's locker, and a police officer has to escort her and Aelyx to class.

Cara finds support in the last person she expected. She realizes that Aelyx isn't just her only friend; she's fallen hard for him. But Aelyx has been hiding the truth about the purpose of his exchange, and its potentially deadly consequences. Soon Cara will be in for the fight of her life—not just for herself and the boy she loves, but for the future of her planet.
Review
"Alienated has a beautiful cover with an even more beautiful story beneath"
I loved this book! I could not put it down. It is one of my favourite reads of 2014. First off that cover!! It is amazing, I LOVE it! It is the best cover I have seen in ages, it is one of the reasons I picked up the book. I saw the cover and thought if the cover is awesome the book is going to be as well and I wasn't wrong!
I can't explain how much I love this book. As from the title you can probably guess it involves aliens and hot aliens at that! I have gained a new book boyfriend in Aelyx. *swoon* The only other alien related book I have read is the Lux series by Jennifer L Armentrout and they were amazing as was Alienated. In my opinion I think aliens are going to become the next big thing. We had vampires, now we have aliens!
The story was amazing. I loved that you were unsure if Aelyx was going to betray Cara are not and I really didn't know if he was going to. It was great to see from Aelyx's point of view, him viewing us as the aliens it was crazy to think we are aliens as well. Cara is a strong female protangnist and I think she was so strong in the end.
You also got to see that both humans and aliens can be ruthless and behind the masks people put on they are always after something. I also loved that it showed when humans are afraid of something they don't understand they act out in the only way they know, violence and hurting the so called threat. I think Melissa Landers protrayed this trait in humans really well. I also loved that the aliens where alien but in fact it felt like they could be us in thousands of years to come. Picking from the best DNA to create the perfect human to survive.
I really loved this book and I am so excited to read Invaded the next book in the series. If you are looking for a book with an amazing and compelling storyline with great characters and a new book boyfriend thrown in you need to pick up Alienated!