Book: City of Ashes
Series: The Mortal Instruments (2)
Author: Cassandra Clare
Pages: 453
Rating: ✪✪✪✪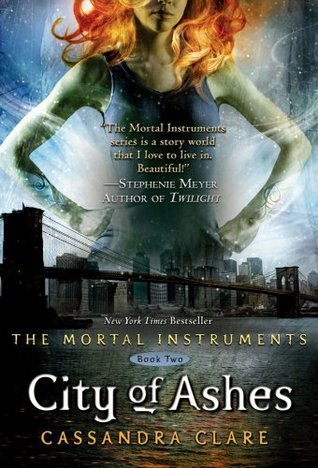 Clary Fray just wishes that her life would go back to normal. But what's normal when you're a demon-slaying Shadowhunter, your mother is in a magically induced coma, and you can suddenly see Downworlders like werewolves, vampires, and faeries? If Clary left the world of the Shadowhunters behind, it would mean more time with her best friend, Simon, who's becoming more than a friend. But the Shadowhunting world isn't ready to let her go — especially her handsome, infuriating, newfound brother, Jace. And Clary's only chance to help her mother is to track down rogue Shadowhunter Valentine, who is probably insane, certainly evil — and also her father.

To complicate matters, someone in New York City is murdering Downworlder children. Is Valentine behind the killings — and if he is, what is he trying to do? When the second of the Mortal Instruments, the Soul-Sword, is stolen, the terrifying Inquisitor arrives to investigate and zooms right in on Jace. How can Clary stop Valentine if Jace is willing to betray everything he believes in to help their father?

In this breathtaking sequel to City of Bones, Cassandra Clare lures her readers back into the dark grip of New York City's Downworld, where love is never safe and power becomes the deadliest temptation
Review
This was such a fantastic sequel. I am so excited for the next book. All the characters are amazing, the story and the world Cassandra Clare has created. The mortal instruments series is up there with some of the best books I have ever read!!!
Book: City Of Glass
Series: The Mortal Instruments (3)
Author: Cassandra Clare
Pages: 541
Bought Own Copy
Rating: ✪✪✪✪✪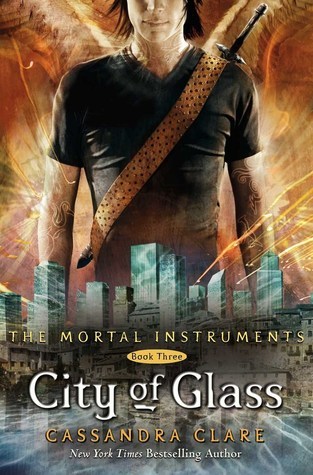 Blurb:
To save her mother's life, Clary must travel to the City of Glass, the ancestral home of the Shadowhunters - never mind that entering the city without permission is against the Law, and breaking the Law could mean death. To make things worse, she learns that Jace does not want her there, and Simon has been thrown in prison by the Shadowhunters, who are deeply suspicious of a vampire who can withstand sunlight.

As Clary uncovers more about her family's past, she finds an ally in mysterious Shadowhunter Sebastian. With Valentine mustering the full force of his power to destroy all Shadowhunters forever, their only chance to defeat him is to fight alongside their eternal enemies. But can Downworlders and Shadowhunters put aside their hatred to work together? While Jace realizes exactly how much he's willing to risk for Clary, can she harness her newfound powers to help save the Glass City - whatever the cost?

Love is a mortal sin and the secrets of the past prove deadly as Clary and Jace face down Valentine in the third installment of the New York Times bestselling series The Mortal Instruments
Review
SPOILERS

Amazing! I don't know if there are enough words to describe how great this series is! City of Glass was a great book in the series. I loved being in the world of Idris. It sounds like a beautiful and old world! I was so glad Jace wasn't Clary's sister!!! Jace and Clary are made for each other. Sebastian is an evil horrible person. I have a feeling he isn't really dead. In a way I felt Valentine truly believed he was doing the right thing and I really do think he loved Jace in his own way.

I LOVE Magnus I think he is one of my favourite characters, I cant wait to read Magnus's own short stories.

I wasn't sure of Simon as I was all team Jace at the start but now I really like him as well. I think he should end up with Maia not Isabelle.

I cant believe little Max was killed it really shocked me!

Overall I really loved this book!! I cant wait to read more!