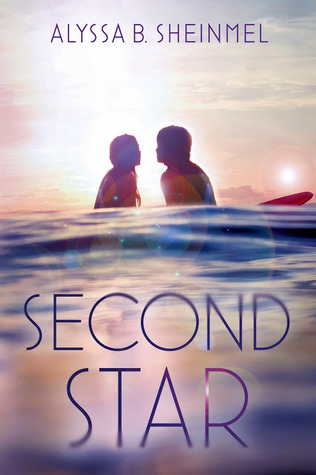 "A twisty story about love, loss, and lies, this contemporary oceanside adventure is tinged with a touch of dark magic as it follows seventeen-year-old Wendy Darling on a search for her missing surfer brothers. Wendy's journey leads her to a mysterious hidden cove inhabited by a tribe of young renegade surfers, most of them runaways like her brothers. Wendy is instantly drawn to the cove's charismatic leader, Pete, but her search also points her toward Pete's nemesis, the drug-dealing Jas. Enigmatic, dangerous, and handsome, Jas pulls Wendy in even as she's falling hard for Pete. A radical reinvention of a classic, Second Star is an irresistible summer romance about two young men who have yet to grow up--and the troubled beauty trapped between them."
Goodreads
Second Star is a contemp retelling of Peter Pan. Why did you choose this classic childhood story as the bases for Second Star?
I

'

ve been fascinated by the world and characters of Peter Pen for as long as I can remember

–

I even wrote one of my college admissions essays about Neverland! I was curious what kind of effect the timeless world J.M. Barrie had created would have on an organized, scheduled girl like me. Writing Second Star gave me the chance to invent my own Neverland (and as a bonus, I got to throw a type-A, recent high school graduate into that world).
The setting of Second Star is based on a beach cove and involves renegade surfers as the backdrop to the story. Why this setting?
Second Star is my first novel set in my homestate of California. I

'

ve been wanting to write a story that takes place in California for a while now, and I loved the idea of recasting Peter Pan and the lost boys there

–

instead of flying, they surf; instead of Neverland, they live in a secret cove by the beach. It just felt like the perfect fit for reinterpreting the original story.
The cover of Second Star is fresh and simple using great colour. Did you have any say in the design of the cover? What are your thoughts on the cover?
I love the cover! I didn

'

t actually give much input on it, though

–

I

'

m very happy to trust the experts on stuff like that. My publisher has talented designers who created it, and I think they did a beautiful job.
Why should we pick up Second Star this summer in one sentence?
Wow, that

'

s a tough question. Hmmm….I

'

ll say that you should pick up Second Star this summer because it

'

s a dark, psychological reimagining of a beloved tale, but at the same time, it

'

s a romantic, sandy and salty summer read.
Twitter: @AlyssaSheinmel