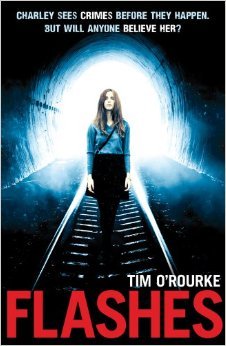 Book: Flashes
Author: Tim O'Rourke
Pages: 251
Received for review via Chicken House for honest review
Amazon * Book Depository *Goodreads
Rating:
✪✪✪✪
Blurb:
Flashes is the first in a new series of YA paranormal crime novels in which a 17-year-old girl cannot help seeing glimpses of dead people who seem to want her aid - much to the consternation of her boyfriend, who has just started work for the local CID.
My Review:
When I was approached to review Flashes I was intrigued by the blurb. I don't tend to read crime/mystery books but with the paranormal elements I thought I would give it a read and I am so glad I did.
From the first chapter I had chills. I started Flashes at night and this maybe wasn't a good idea as I am easily freaked out. All I can say is a mobile freaked me out. What a mobile? your thinking. Yes a mobile! You will have to pick up Flashes to find out why :)
The concept of Flashes was great and I really liked the authors writing style. He did a great job of describing Charley's Flashes and I just really enjoyed his style of writing as it had me gripped and invested in the story. The story still felt like it was "real life" even with the paranormal elements, which I liked.
I really liked Charley as a main protagonist. She was a great character who felt very human, she wasn't perfect. Charley was dealing with grieve and her flashes and being different and this made her more relatable. I also like Tom the male lead. He was a great guy, a young cop who believed in Charley. I also liked the romance between both of them.
Flashes was told in the POV of both Charley and Tom which made the story more gripping to read as the tension and drama heated up. One thing I also really liked about Flashes was all the detail in the police work, which made it feel more real. This is probably due in fact that the author is a real life police officer!
So it sounds like I really enjoyed Flashes and you would be right. But why not give it 5*? The reason is I did have a few small issues with it. First off I was a little confused how Tom could be a Plain Clothed Police Officer being only twenty. However I understand that the male lead needed to around Charley's age for the story to work well. (Also maybe this is possible in real life I don't no) Also with regards to the mystery I figured out who the killer was quite early in the book, even though I did question it a little in the middle of the book. However at the heart of the story it wasn't just about the mystery, it was about a girl and her past and dealing with being different and I really enjoyed it.
In Flashes there was action, tension, chills, love and ultimately a great story that had me wanting to keep turning the pages. I can't wait for the next book in the series!