Lately I have started to read alot of novella's in between my books. I have liked being able to read some short adult books, as I don't read many adult books as I tend to stick to the YA genre. Below is some quick reviews of two short adult reads and one YA short read.
The Ghosts of 2012 (Most Wanted) by Graham Hurley
Reviewed copy from library
Adult futuristic thriller
Publisher: Barrington Stoke
Paperback
160 pages
2009
Blurb: Joe is on for gold in the 2012 Olympics. When the UK is taken over by a military coup, it's not his problem. Then people start to disappear...
My thoughts:
I was really shocked by this book, it really made me think and the ending just made my heart stop!
The ghost of 2012 is a short hard hitting book that will have you questioning society and the lengths people will go to to achieve their goals.
A Sea Change by Veronica Henry
Reviewed copy from library
Adult Contemp
Publisher: Orion
Paperback
Pages: 90
2013
Blurb:
Jenna is known as The Ice Cream Girl. She doesn't mind the name one bit. After all, it's a happy name, and there are far worse jobs than selling ice creams on Everdene beach.
Craig spends as much time as he can at the beach hut in Everdene he rents with a few of his mates. As a policeman, it is a restful change from his daily life, and he's surfing mad. One weekend he's down there on his own when he notices a girl on the beach. He's young, free and single and she catches his eye.
But on this particular summer weekend, both Jenna and Craig's lives are about to change . . .
My Thoughts:
This is a good quick read.
I thought from the blurb it was going to be an easy quick summery read but it had a serious side. The two main characters are both dealing with issues in their lives unsure of what to do in their situations.
I liked Veronica Henry's style of writing and will pick up more of her books. If you haven't read any of her books before this is a good one to start with. Its a short, good read with engaging characters that Veronica Henry gets across perfectly in just 90 pages with a happy ending. I would love to see what she does in a full novel with her
protagonists.
Soulmates by L.A. Weatherly
Reviewed copy from the library
YA time travel romance
Publisher: Barrington Stoke
Pages: 96
2014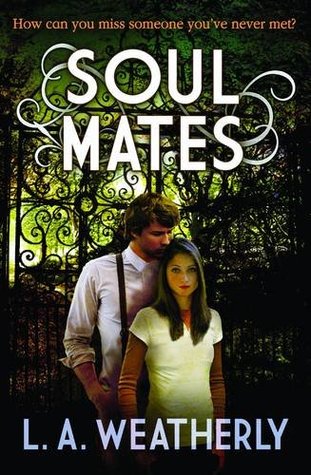 Blurb: Beautiful and intriguing paranormal romance about two teenagers whose love is so special that nothing can keep them apart - not even time. Iris and Nate have dreamed of each other all of their lives. When they meet by chance in an abandoned house, they discover that their dreams were more than fantasy - they are soul mates, destined to be together. But someone or something is watching them, determined to tear them apart. Will Iris and Nate's love be strong enough to survive the test of time? Particularly suitable for struggling, reluctant and dyslexic readers aged 12+
My Thoughts:
I was really disappointed by Soulmates. I love L.A.Weatherly's Angel series and was hoping for this short novella to be as good.
The story is interesting but its really confusing in parts. I understand the need for suspense but it just didn't feel right, structure and pacing wise. Really disappointed to be giving it just 2*.
Leave me a comment below on these shorts. Have you any recommendations of more quick reads?